EPLAN Online Training:

An investment that pays

Clear structures. Regulated processes. Assured training quality. The EPLAN Training Academy is the central contact for all qualification questions relating to engineering. The extensive training offers EPLAN users every possibility for personal and professional improvement.

Professional training courses with a high proportion of practical content and streamlined learning concepts offer everybody – from beginners to professionals, from fluid power designers to switchgear engineers – more productivity right from the start.

Training's comprise-
Easy introduction to, professional utilization of the software.

How to apply modern engineering methods.

Internationally-valid documentation standards and their application.
Additional Benefits:
Transfer of up-to-date know-how

More productive use of software

Perfection of workflows

Quality improvements, time saving, cost reduction

Investment security
---
---
EPLAN Electric P8 Paid Online Training
Your opportunity to enhance your electrical engineering skills!
EPLAN Electric P8 offers unlimited possibilities for project planning, documentation, and management of automation projects. The automatic production of detailed reports based on wiring diagrams is an integral part of a comprehensive documentation system and provides subsequent phases of the project, such as production, assembly, commissioning and service with the data required.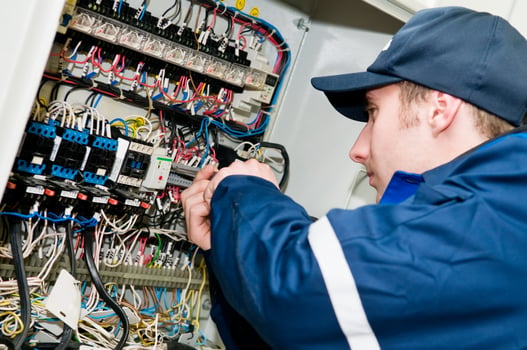 Our EPLAN training model covers industry overview of panel engineering and automation starting with Plant / Equipment overview and follows incomer circuit, Power distribution, Motor circuit, control circuit, PLC, Field equipment's (Sensors and actuators), General Arrangement (2D Panel Layout) and production documents such as Ferrule list, cable list, terminal list ..Etc. Complete project gives your insight on the industry drawing with documentation according to standards as such IEC 81346 and IEC 61355.
On other hand, we also cover the effective way of working on the tool such as
Project creation and Schematic design
Creating Macros (Blocks) with value sets
Different ways of editing
Number Devices, terminals, cables (Navigators)
Cross references
Master data synchronization and many more
| | | |
| --- | --- | --- |
| Date | Online Training Timings | Action |
| 15th June 2020 | 10:00 A.M. to 04:00 P.M. | |
| 06th July 2020 | 10:00 A.M. to 04:00 P.M. | |
| 03rd August 2020 | 10:00 A.M. to 04:00 P.M. | |
| 07th September 2020 | 10:00 A.M. to 04:00 P.M. | |
| 05th October 2020 | 10:00 A.M. to 04:00 P.M. | |
| 09th November 2020 | 10:00 A.M. to 04:00 P.M. | |
| 07th December 2020 | 10:00 A.M. to 04:00 P.M. | |
---
---
EPLAN Pro Panel Paid

Online

Training
Your opportunity to enhance your electrical engineering skills!
EPLAN ProPanel provides all necessary data for manufacturing like BOMs, drawings and flat projection drawings and integrates automation technologies perfectly in the processes of product development and manufacturing. This applies to the mechanical processing of the cabinet housing components or copper bars as well as for the control of machines in the cable and wire assembly. Even future-oriented automation technologies such as automated assembly of terminal strips or the robotic wiring of equipment are supported.
Course Content: Creating a layout space, Place enclosure, Layout space navigator / Activate, Place wire duct, Place mounting rail, Place devices, Creating Model Views, 3D mounting layout, Creating / editing template, Reports -> Placing enclosure legend, Review exercises 3D mounting layout, Importing 3D graphic (enclosure), Automatic interpretation, Create 3D macro for items, 3D graphic created from data model, Layout space -> Creating mounting points at 3D macros.
| | | |
| --- | --- | --- |
| Date | Online Training Timings | Action |
| 13th July 2020 | 10:00 A.M. to 04:00 P.M. | |
| 14th September 2020 | 10:00 A.M. to 04:00 P.M. | |
| 02nd November 2020 | 10:00 A.M. to 04:00 P.M. | |
---
---
System Requirement:
Next Steps:
Fill the below form with correct details

EPLAN will reach out with payment details

Training related files will be shared
Please feel free to write to us for any further query/details: info@eplan.in
---
---
---